3-6 players
Age 16+
Designed by Florian Fay
Published by Sorry We Are French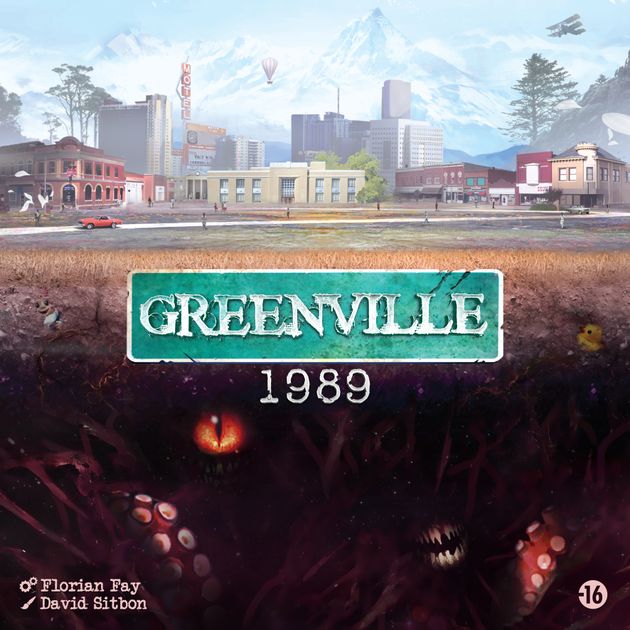 Greenville 1989 is a narrative co-operative game in which players take on the role of a typical 1980s teenager who just wants to go bowling. However, en route you and your friends are plunged into a weird and horrifying supernatural vision of your home town, Greenville. To escape players must work as team to direct each other out of this world and back home.
In game play terms, Greenville 1989 has much in common with Mysterium. Players all begin in a central location on a board and are dealt a location card. Each player describes their card and, more importantly, where they think they will be going next.
One player, the Guide, takes the role of directing everyone to their next location. The Guide is dealt location cards equal to the number of players +1. They then secretly allocate each card to a player including a red herring player. The rest of the team then try to work out which card belongs to who.
If correct, the new card becomes their location, and the next player becomes the Guide; get everyone through 4 locations and you all escape. However, if you fail to correctly identify your location you move a place along a path on the main board. Should one player reach the end of their path you all are lost to the void forever.
Now I am not a fan of horror. I refused to play the T.I.M.E. Stories scenarios because the first one was so unnecessarily horrifying. However, despite its 16+ age rating, I didn't mind the horror elements of Greenville 1989. The locations are at best a bit trippy and at worst contain monstrous horror, but they are not openly gory or scary. It helps that they have little movie references in them, which the movie nerd in me enjoyed spotting and discussing.
As I said above this game is similar to Mysterium, and it's nice to see someone other than Libellud take on the "describe a weird card" mechanic. One of the most enjoyable parts of Greenville 1989 is the feeling that you truly are all in it together. Sometimes the cards are against you and none of the locations match any part of what someone has described, but it feels like you're in control and share in your teammate's successes and failures.
Mysterium, though fantastic, can feel a little like the Ghost is in control and therefore is someone to blame when things don't shake out. Also, after a few dozen games of Mysterium, cards end up having unintentional meanings, so-and-so always uses that card to mean the Groundskeeper for example, which sort of spoils the purity of the game.
This may happen to Greenville, I'll let you know in a few years' time, but on an initial playing it feels like this is less likely. Greenville 1989 also feels like a pared down, purer form of the mechanic. It doesn't have the slightly complicated scoring system of Dixit or the separation in Mysterium between the Ghost and the Psychics.
Everyone gets a turn at being the Guide and it's simply pick your card and win (or not). So, if you like a cross between Mysterium and Stranger Things this is definitely the game for you. Describe your locations, see what's behind the mirror, direct your friends into the mouth of the beast and try to get home in time for your TV dinner.