Developer: Thunder Lotus Games
Publisher: Thunder Lotus Games
Platforms: Windows, macOS, Linux, Playstation 4, Nintendo Switch, Xbox One, Stadia
Release: August 18th, 2020
I am not even sure where I should begin with this game. I had seen a impressions video of it on YouTube, I am a huge fan of indie games and try to keep an eye on what is coming out. The game looked beautiful but I knew little else. Then it came out and was available on Xbox Game Pass and my husband said it really seemed like my kind of game so I downloaded it and begin to play.
I don't know what I was expecting but this blew any expectations I may have had out of the water, with a cannon. What I can tell you, without spoiling anything, is that you take over for Charon to ferry spirits to the Everdoor, the other side. You meet these souls, have to do tasks to get them to join your ferry and begin their journey. Your ferry grows in size, you need to feed them specific foods, build them house so they have their own space and give them lots of hugs. Ok, everyone doesn't love hugs but I love hugging them.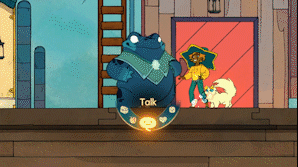 However, this is so much more than a game. You have to help these souls, go on an adventure with them and help them prepare for their next step. Their stories are so much deeper than I could have anticipated. I wish I could explain it better but you are more than your character. I bonded with these spirits, I listened to their stories and I mourned them. My mourning wasn't all sad however. I helped them get to a better place, I watched their journey and I held their hand. It felt more bittersweet than anything else.
This game never stops giving either. I actually learned my own valuable life lessons and I am far from finished playing the game and I will walk away from it with far more than I expected or hoped for.
Putting away the soulful soundtrack, the beautiful art work, fun 'mini games' & delightful game mechanics. I played a game that was good for my soul and you should to.