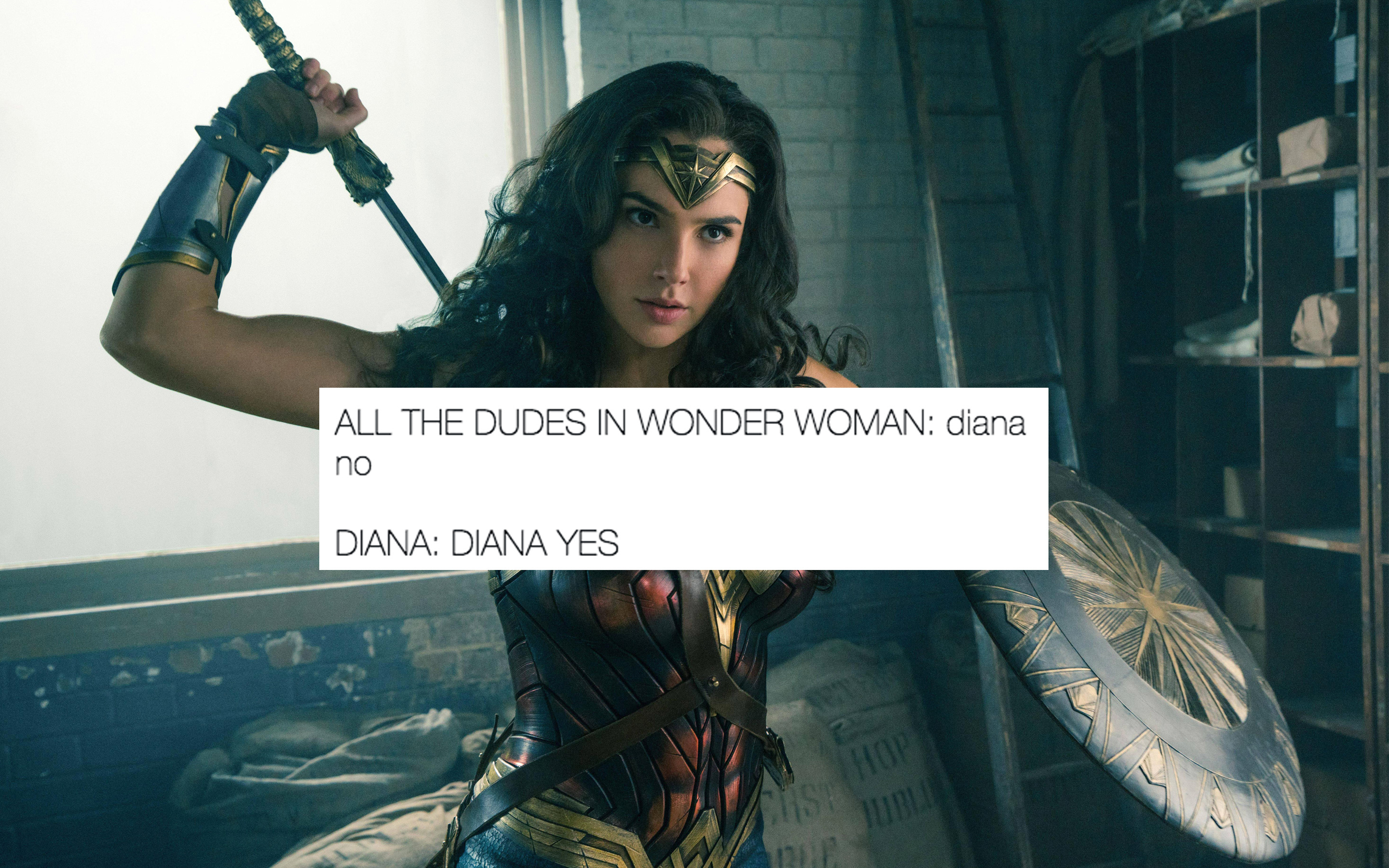 caption: Me rn all the time
Two months ago, I had the great pleasure of watching DC's new feature film, Wonder Woman. It was a hell of a good time, combining the best aspects of Captain America, Thor, and Xena: Warrior Princess.  There has been a lot of buzz about this movie lately: feminists love it, comic book fans love it, even some Marvel fans love it.
My family is on Team Marvel.  We are deeply loyal and have even begun indoctrinating our two-year-old daughter (ask me about her Princess Spiderman birthday party).  But we still shelled out over $30 to see Wonder Woman and boy was it worth it.  The film made me proud, unstoppable, and powerful, but the reaction that will stick with me was a sense of seeing myself on screen for the first time.
You see, I'm a Gamer Girl, and I play a tank.  'Tank' in this context refers to a party-role in cooperative gaming.  In order to form a successful team, a gaming group must consist of a balance of characters with differing abilities.  At minimum, a party will typically contain a healer or support character, a damage-dealer (DPS, short for damage per second), and a tank.  The 'tank' is a heavily armored character capable of absorbing a lot of damage.  The tank is often the first one into the fight, aggressively drawing fire from enemies to keep his (it's almost always a 'his') allies safe.
If you play a lot of games, you start to see these roles appear in fiction as well.  It can be a lot of fun to categorize characters from movies or books into roles, especially if a diverse group of characters are on an adventure together.  The thing is, when you do this, you start to notice that women fall into particular roles.  The lone female member of a team is usually the healer.  I call this the 'why's the girl always got to play the cleric?' trope.
This trope plays into the stereotype of women as caring and nurturing, existing only to support the men around them.  It shows up a lot in games.  Very often, female players like me, who actually want to beat up enemy pixels, are forced to chose between a character that suits their personalities and one that matches their gender (I never got into Black Desert Online for this reason).
The girl doesn't always have to play the cleric, though.  Sometimes she gets to play DPS.  She can be a sexy sorceress like Lulu in Final Fantasy X, or a sexy rogue like Black Widow in The Avengers.  They stay on the outskirts of battle, dealing out heavy damage to opponents, avoiding being hit and looking good doing it.  This type of character can be fun to play, but when I try I always get killed because I rush in to melee a group of enemies without the hit points or armor to stay alive.  Sometimes I manage to take the mobs down with me.  Sometimes.  But deep down, I was always meant to play a tank.
There is a scene in Wonder Woman where Diana and her sidekick, Chris Pine, are in a tavern forming an adventuring party.  Pine's character is a rogue, and they recruit a bard, and then we learn that their next group member is engaged in a bar fight.  "At least he's good with his fists," says Diana as she watches a large man pummel a much smaller man.  "Oh," say her companions.  "That's not Charlie.  That's Charlie," and indicate the smaller man who at this point has fallen to the ground, unconscious.
In the next scene, we learn that Charlie is an expert marksman.  Oh, I think to myself, he's DPS. So they have DPS and support, but where's the tank?  
And that was the moment I realized that I'd never seen myself represented on screen before.  It hadn't even occurred to me that the party already had a tank from the start: the only woman in the group.  It hadn't occurred to me because I had never seen it in a movie before.
So, when the warrior princess ignores the warnings of everyone around her and strides in all her glory across the no-man's-land between WWI trenches, deflecting bullets off of her bracers and shield, I just kept thinking, 'It's me.'  Or, at least the me I am when I play video games.  The me I want to be all the time.
Stories tell us who we are and who we can become.  We absorb them and they help us grow.  Generations of moviegoers have been starved for a story of a woman who is brave and strong, who protects the men around her.  That starvation is finally ending.